Iconic Inspiration: Patti Smith
Last night I had the good fortune to see Patti Smith play the last night of her most recent tour, under the stars and by the sea at the Santa Monica pier- for free no less! She's a hero of mine and one of my all-time favorite musicians.
A feminist, political activist and fearless rock n' roll icon all rolled into one...what more could you ask for? Patti's personal style hasn't changed much since she first began performing in 1975, and with good reason. She found what works for her and sticks with it. Few people can do that and remain as timeless as she has. Her radiance and strength allow her to pull off a fairly androgynous/grunge look that on some could look haphazard, but on Patti looks just right. The image above is one of the most famous of her, and demonstrates just how stunning a classic white button-down shirt can be. Otherwise, she seems to be found most often in classic t-shirts with over-sized blazers, tight, skinny jeans and boots, a classic rock look if there ever was one. The thing I love most about her is that it seems she doesn't over think things- she wears what she likes and what feels good for her.
Here she is performing last night at the Santa Monica pier: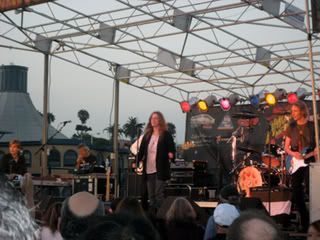 She continues to embody the punk rock/D.I.Y. spirit, as evidenced by her awesome t-shirt, (hard to see I know) a perfectly worn white tee with a peace sign drawn on with Sharpie marker! I may just have to copy this.
If you haven't heard any of Patti's music, I highly recommend you check her out now, not later. A good place to start would be with two of my favorite songs of hers (also two of her most moving in my opinion):
-"Pissing In a River", off radio Ethiopia, 1976
-"Kimberly", off Horses, 1975